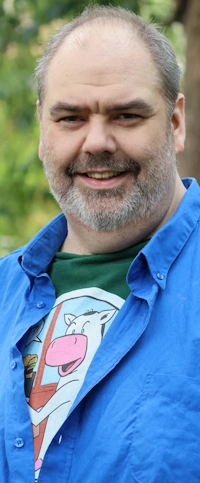 There's no way I'm going to flood your computer/tablet/phone with thousands of images of everything I've ever drawn, but what follows is a nice representation of my (hopeful) growth as an artist over the years. I didn't really start seriously drawing until I was about forty, and it showed, but thankfully (to quote Captain America) my audience is more… twelve.
I started "professionally" as an artist with the CRASS FED web comic, which began in 2012 on tumblr. (Last year, with the site long gone, I printed all 200 cartoons in a hardcover collection, Fifty Years of Art: Book One – A Crass Beginning on the comics' 10th Anniversary.)
Since then, I have written and/or drawn over twenty children's books, comics, and illustrated chapter books, plus numerous spot illustrations, covers, commissions, hundreds of sketchbook pages, and more. From that growing library, I present a representative sample of my work for you to enjoy. If you would like to own a piece of original artwork by me for your collection, use the Contact link at the top of the page to email me and we can discuss your wishlist! You can also use that link to reach out if you would like me to contribute to your project, be it a variant cover or as part of your art team. Cheers!
---