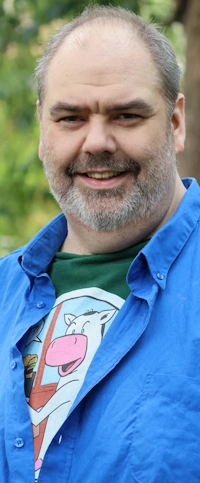 This is as comprehensive list of my work as I can provide. It is in reversed-chronological order, and will be updated as new items are published (or as my old brain remembers stuff I worked on). If you want more information, such as more specific age/reading levels or Flesch scores, please refer to the BOOKS page at GRANDPUNWICK.COM. Many of these books fall under one of four series: Shakes the Cow, The Bear From AUNT, The MooseLambs (written by my wife, Elinda), or The Mighty Hippofartamus (co-created with shared creative duties with my Kidlet, Sam).
All of my in-print books can be ordered from my affiliate page at bookshop.org, where they give a portion of the proceeds back to the author (in this case me) and another portion to small Mom-and-Pop bookstores to help keep them solvent in the age of big box online megaretailers. You can also order signed and remarqued books from our online shop at SHOPDFP.COM. Books in print but not published by DFP/Crass Fed Kids (our primary imprint) will have links to either their Bookshop page, or the book's publisher.
If you have any questions, just use the Contact link at the top of the page! Cheers!
---
Works Published in: 2017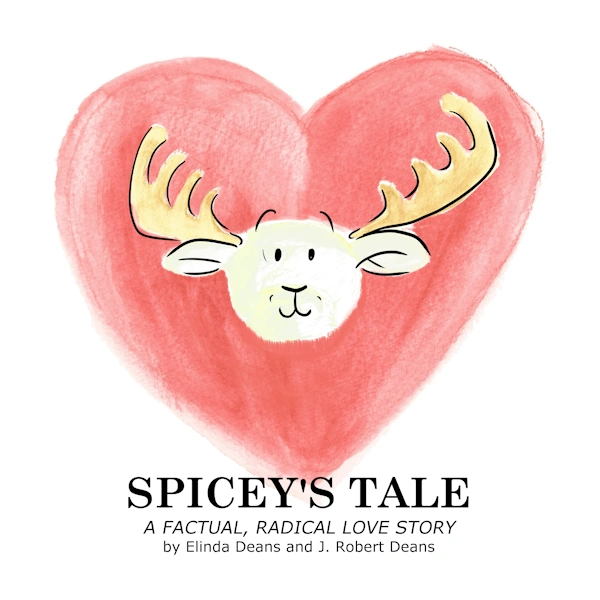 Spicey's Tale: A Factual Radical Love Story – A MooseLamb Storybook (Written by Elinda Deans) (Hardcover)
What happens when a happy-go-lucky lamb and a sad-and-depressed moose meet? Spicey's tale is a storybook about bullying, mixed families, children from those families, and a testament to the simple yet powerful idea that "Love is Love."
Borne out of the ludicrous tenure of Press Secretary Sean Spicer, his inability to say "Muslim," and the subsequent mockery thereafter, my wife quickly went to work creating a toy of Spicey the MooseLamb. Well, Spicey needed an origin story, so she came up with one, and I helped her turn it into a storybook, to which I provided art, and the MooseLamb series was born.
(Available to order from most retailers.)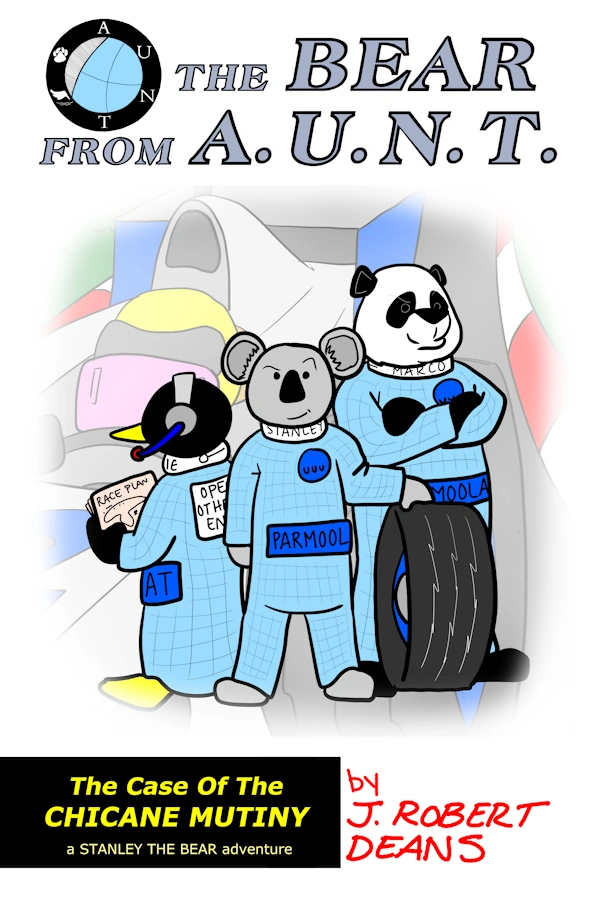 The Bear From A.U.N.T.: The Case of the Chicane Mutiny (Hardcover)
Marco is back from holiday, and while everything seems quiet, Percie calls for a favor: she is running the Surf & Turf racing team for Mooclaren Racing with Shakes as the team's number one driver. She and Shakes are concerned their biggest rival on track is cheating – and that it may go as high as the head of Formoola One! Stanley and Marco go undercover as mechanics, but can they uncover the mystery before the end of the season?
This was a concerted effort with MOO FAST MOO FURRYOUS for my older readers and a love letter to Formula One, the one sport I follow. The fun part was adding in my favorite drivers – especially Rubens Barichello – into the narrative, just in animal form. My hope is that younger kids would read MOO FAST, and then a few years later, read CHICANE and get a richer more involved reading experience, and greater appreciation for the overall story.
(Out of print.)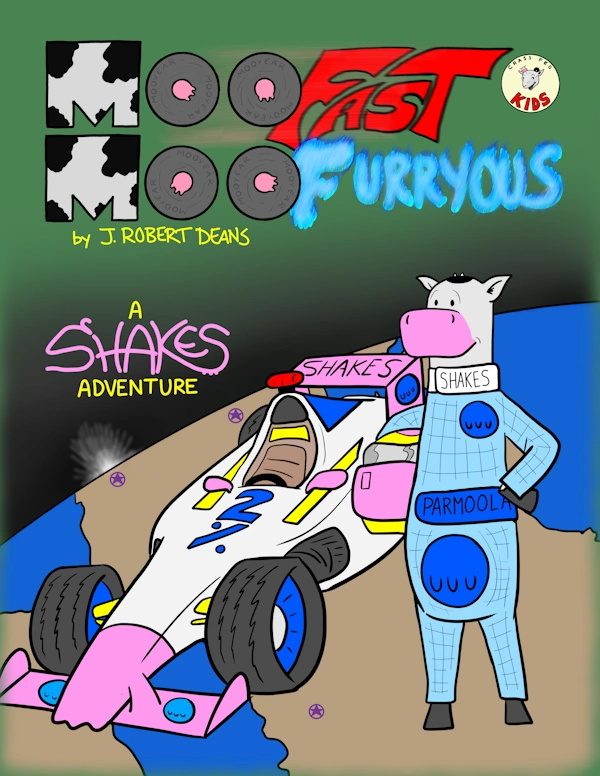 Moo Fast, Moo Furryous (Hardcover)
Shakes is a Formoola One racing driver, and Percie is her chief mechanic! Driving for the Mooclaren racing team, Shakes is fighting for the driver's championship against her biggest rival, Alonssso! But is Alonssso playing fair, or is he being a snake in the grass?
I had done Shakes in space (honoring Star Wars, Star Trek, and 2001), and Shakes in the Jungle (Raiders of the Lost Ark), so I just HAD to put shakes in my favorite sport, F1 Racing. Unfortunately, what I didn't think through was that it meant I was going to have to draw a LOT of racing cars. And tracks. Oof. One of the awkward parts is that I actually like Alonso, but his name just lent itself so beautifully to a snake's name that if he ever sees the book, I hope he understands.
(Available to order from most retailers.)
Works Published in: 2016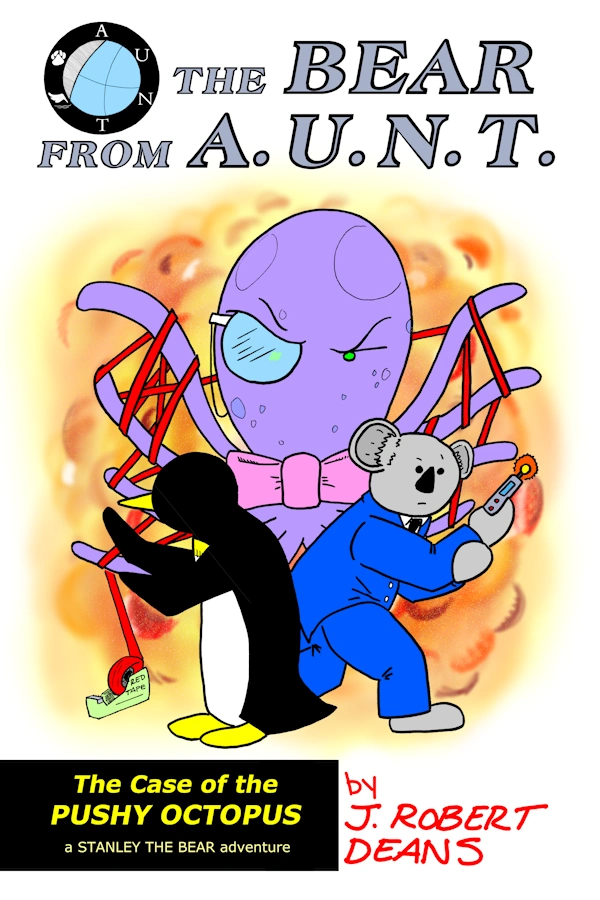 The Bear From A.U.N.T.: The Case of the Pushy Octopus (Hardcover)
While Marco is on holiday, Stanley is assigned a new case and a temporary new partner from AUNT's Aquatic division, Percie. Along with Percie comes her supervisor, Leo's counterpart from Aquatic, a rules-minded Octopus who gets in Stanley's way at every turn. Can Stanley and Percie solve the mystery of glaciers at the equator and icebergs melting at the south pole before the case goes cold?
With this mystery, it made sense for Stanley to have a sea-faring partner, and I love penguins, so I made the partner a penguin. And for fun I made the penguin the same from the Shakes the Cow picture book series, inadvertently creating a shared universe in my children's books. Grand Punwick – and a whole lot of headaches – was born.
(Out of print.)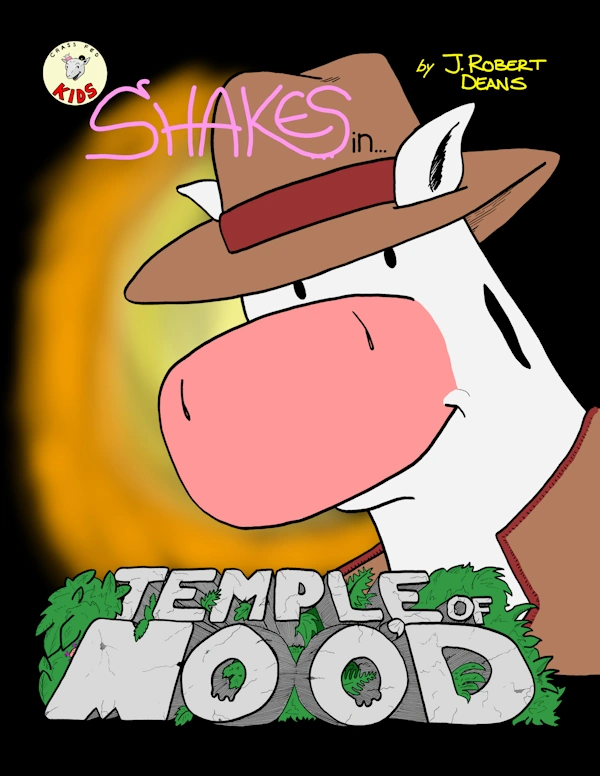 Temple of Moo'd (Hardcover)
Shakes, along with her best friend Percie the Penguin, visits the jungles of the southern continent while on holiday after returning from space. While exploring the jungle, the pair gets lost – and then separated – and finds themselves in a giant temple adorned with treasures and massive statues that look very familiar! What happens when Percie starts reading from one of the mysterious tablets?
Percie started as a cameo in MOO THOUSAND AND PUN as one of the Mission – sorry – Moossion Control techs, and I decided Shakes' adventures would be more fun with a partner. After all, Indiana had Sallah, right? Now, Shakes had Percie, who was named in honor of an old school friend of my wife's who died at a very early age. TEMPLE would become the first Shakes story to get a sequel in 2022 with JUNGLE OF MOO'D.
(Available to order from most retailers.)
Works Published in: 2015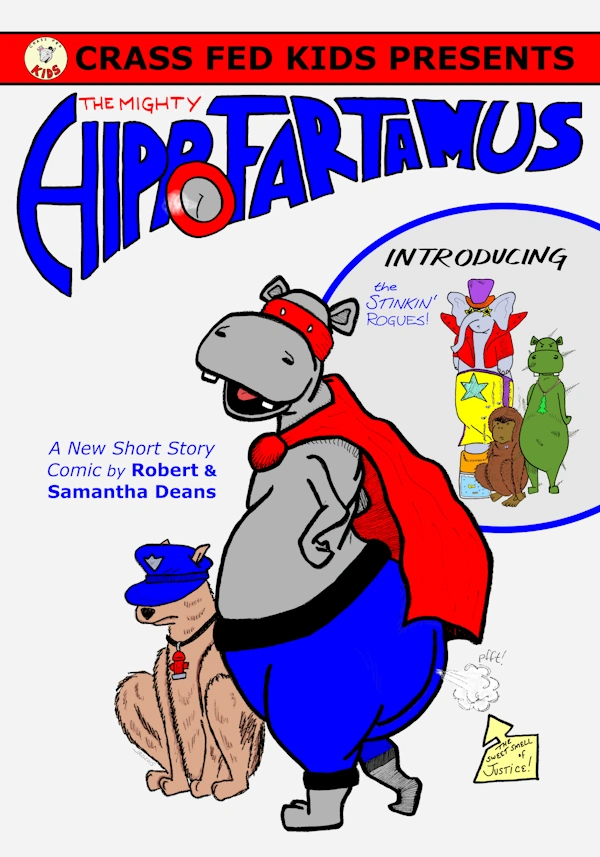 The Mighty Hippofartamus #1 (With Sam Kidlet)
When a different kind of evil rears its ugly head, sometimes the cops need special help, and that's when they call upon Grand Punwick's very own superhero, The Mighty Hippofartamus! When police Captain Cop Asquat calls, mild mannered Patty Moss becomes the Gassy Guardian, ready to save the day!
While my wife and I were working away on our own books, then 8-year-old Kidlet was feeling left out, as kids that age will often do. So, I took a goofy idea that had developed from my rather unique way of getting her out of bed for school and turned it into an idea for a comic book character. The Mighty Hippofartamus was born! To get Kidlet as involved as possible, I would constantly ask her questions about Hippo until we had the frame of a story, which I then penciled. I then gave her the pages to ink, and after I lettered the comic, I taught her how to digitally color the book. The book was printed at a local print shop by a friend, just in time for our first show of 2015, and every so often, Kidlet comes up with another adventure allowing us to keep Hippo classy and gassy!
(Out of print. Reprinted in Hippofartamus II: Electric Stinkaroo.)
---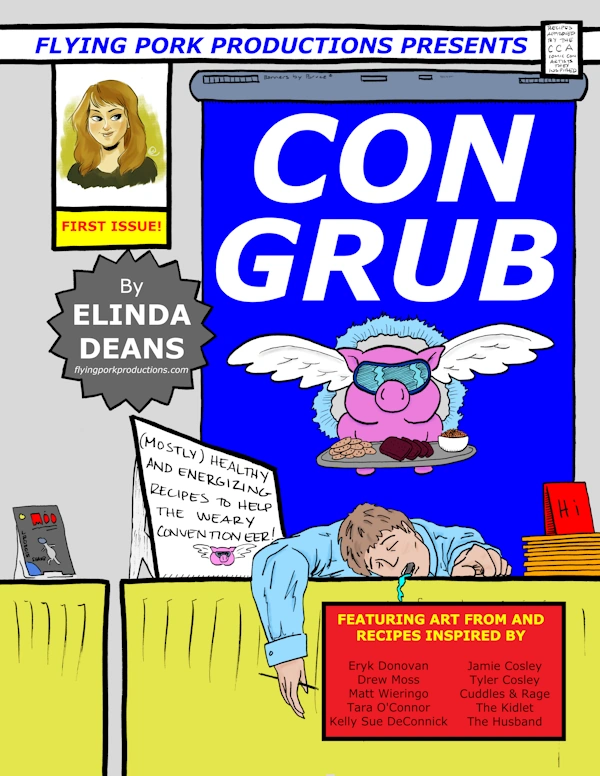 Con Grub (Written by Elinda Deans)
When I was working with Jamie Cosley to promote the Cody the Cavalier comic in 2013, my wife noticed just how hard artists work behind their tables during a convention – and how little they eat and drink, especially healthily. So, she worked on several recipes that were shelf stable (and in some ways healthier than the deep fried concessions) for artists to make ahead and keep under the table when exhibiting. SOme 50 recipes later, and accompanied by the amazing artwork of comic artists like Drew Moss, Eryk Donovan, Matt Wieringo, and more, CON GRUB was born. The Kidlet and I Both contributed artwork (so if you're a completist, order a copy while we still have them!)!
(Available from DFP Direct.)
---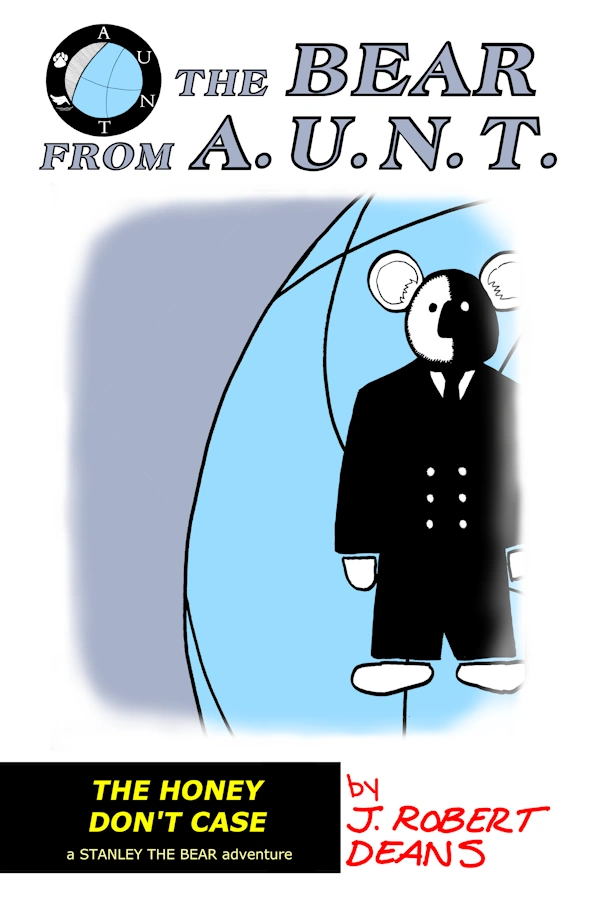 The Bear From A.U.N.T.: The Honey Don't Case (Hardcover)
Staney is a superspy working for a global spy agency whose mission is to keep the planet safe from threats normal law enforcement cannot handle. When it becomes clear that the world's honey bees are disappearing, Stanley is assigned a new partner, Marco, and the mission to solve the mystery. Can Stanley solve the case and learn to work with his new partner before all of the world's bees disappear completely?
This series started as a gag on a birthday card I drew for my wife, based on a line of dialogue from The Hunt For Red October, and after I drew that card, the idea would not leave me alone. After I had finished MOO THOUSAND AND PUN, I took a few weeks and the result was the first Bear From AUNT book, based on the Man From UNCLE TV series I had watched as a kid. Filled with references to spy films and shows, Stanley was my chance to present spy adventures to kids (including my own) for whom the Bond films were just a little too mature.
(Out of Print.)
---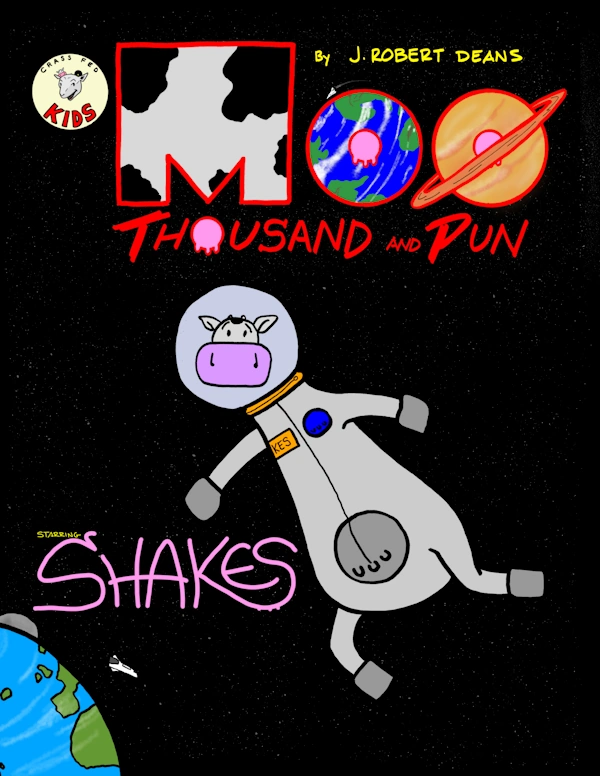 Moo Thousand and Pun (Hardcover)
Shakes trains to be an astronaut and is launched into space, and on her spacewalk, gets lost! How will she get back to Earth safely? The story hit me all at once the day after I was laid off, based on a goofy sketch I made of Kidlet's favorite toy as an astronaut. After a couple of re-writes and a couple of test readings, the printing of MTAP was funded through a successful Kickstarter in March of 2015. Trivia: The original print run sold out in 2019 just prior to the Covid 19 pandemic shutdown.
(Available to order from most retailers.)
Works Published in: 2013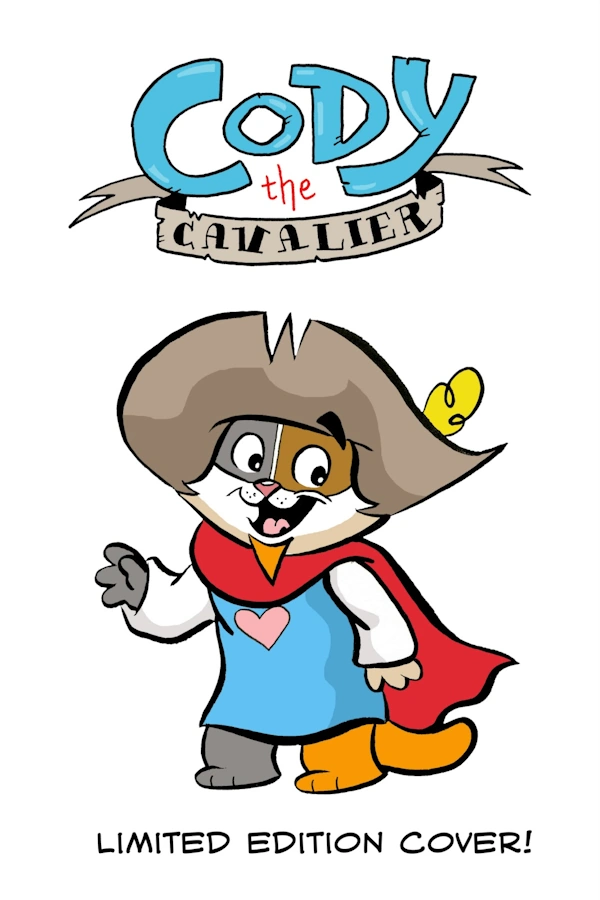 Cody the Cavalier #1: Game On Comics Special
Published by the shop I managed at the time (yes, RHIP) as a planned line of local artist spotlight comics, our first issue focused on my friend Jamie Cosley. Jamie had not yet become "Star Wars artist Jamie Cosley," or created BlueScar. Cody the Cavalier was his first attempt at a creator owned book, and our shop put together the first actual comic book for Cody, whose earlier adventures had been comic strips. Jamie asked me to write a story for the book, so I enlisted 8-year-old Kidlet's help and we put together an adventure for Cody titled "True Grits." Only 200 copies of the comic were published, which is no longer available, as the shop closed in 2015. The stories however were reprinted briefly in 2015 in the digital comic "Kin Platt's Super Mouse and Friends," published via Comixology through Art Baltazar & Franco's Aw Yeah Comics. So, when you think about it, my entire career in publishing is basically Jamie Cosley's fault.
(Out of print, all formats)